What is SEO? Is it worth the investment?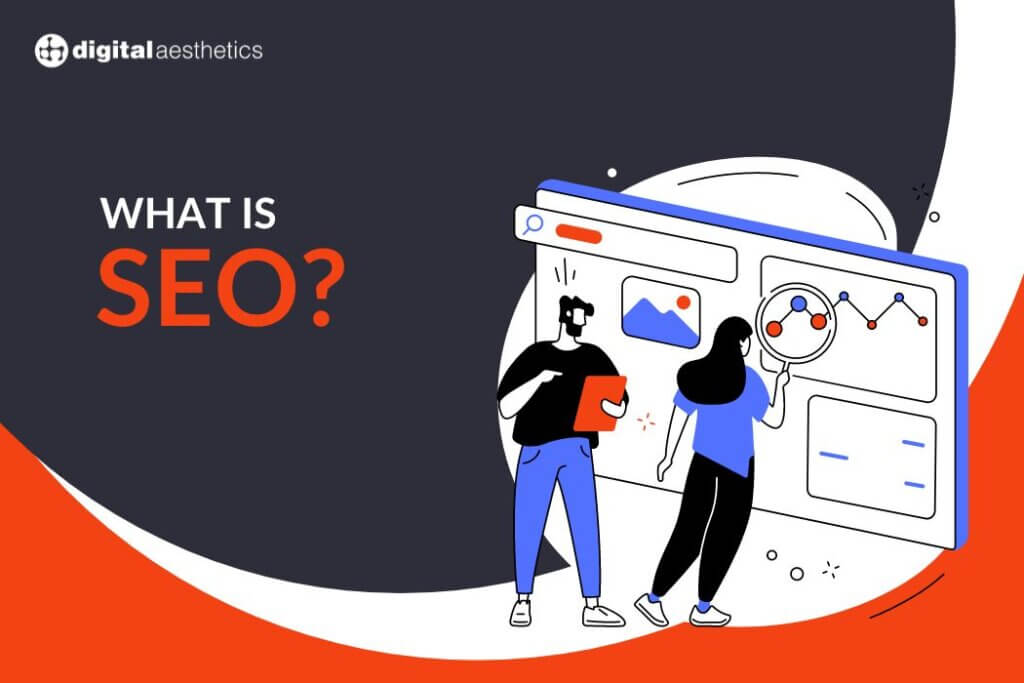 When you purchase a service, it's natural to want to expect instant results. You've parted with your cash, after all!
However, the world of SEO doesn't quite work this way. SEO is a long game that requires patience – it's an investment. But, when done right, it has a significant return on investment – the average conversion rate is higher when it comes to SEO.
If you're new to SEO and need an introduction to what it is and how it can help your business in simple terms, you're in the right place.
What is SEO?
SEO stands for search engine optimisation. It's the process of increasing a website's visibility in the search engine to capture more traffic and, in turn, more leads and conversations.
Ultimately, through SEO, you're striving to ensure that when someone searches for related keywords to your product or service, they land on your website.
Here's an example of SEO in action. As you can see, searching for "aesthetics marketing business London" returns our agency Digital Aesthetics as a result in the search engine.
As the world of SEO is constantly shifting, even once you're bossing your SEO strategy, you can't lapse with your efforts. Search engines respond to fresh content and how recently other sites have linked to your site. With continuous on-page SEO efforts, you're telling the search engine, "hi, we're still here, and we're still relevant!" so when you start to see conversions, this isn't a signal to scale back.
Your time and energy need to be re-directed towards other SEO aspects, as you should (hopefully) be earning lots of links naturally after several months of aggressive SEO tactics. Your competitors will also be mixing things up with their strategies, so you'll need to be ready to mix it up to keep up – you don't want them outranking you!
SEO – tell me why?
It helps you rank better in local searches
One of the most significant developments in the world of SEO is the growing popularity of local searches. Searches like "sandwich shops near me" are becoming more common, and this kind of search indicates that the user is generally ready to make a purchase.
To get the ball rolling with local SEO strategies, you must create a Google My Business account and request testimonials from your past patients (if you're in the aesthetics or health industry) or clients.
Ensure the right business name, opening times, address, and phone number are all there and optimise for voice search, which is becoming more common year after year. If you need help with setting up local SEO and researching the right keywords, and creating listings in local business directories, here at Digital Aesthetics, we can help you get started.
It improves your website's functionality
SEO isn't just about making sure a website is Google-friendly; it can also work to improve the user experience. Creating relevant content, including credible backlinks, and ensuring your site is responsive will ensure your site soars in the search engine. Remember that a suitable site skeleton and decent navigation are also taken into account by Google.
It maximises PPC campaigns.
If you've been educating yourself on SEO, you're likely to have seen PPC (pay-per-click) advertising come up. A PPC strategy helps your site rank at the top of the search engine for paid results – SEO also does this, except it does so organically. Being at the top of Google in both paid and organic results will leverage your brand's credibility, showing you're not just willing to take the PPC shortcut to be on top.
The moral of the story is….
If you want to rank highly in Google, you can afford to ignore SEO. Here at Digital Aesthetics, we've been working with some of the UK'S most prestigious establishments in the health, beauty, and medical sectors.
You can speak to us in your language, as we understand the ins and outs of these industries and what clients and patients are looking for when it comes to user experience.
Why not get in touch for a no-obligation quote for SEO strategy guidance? Better still, we can manage your SEO campaign so that you can turn your attention toward other vital areas of your business.