Is it time to update your branding?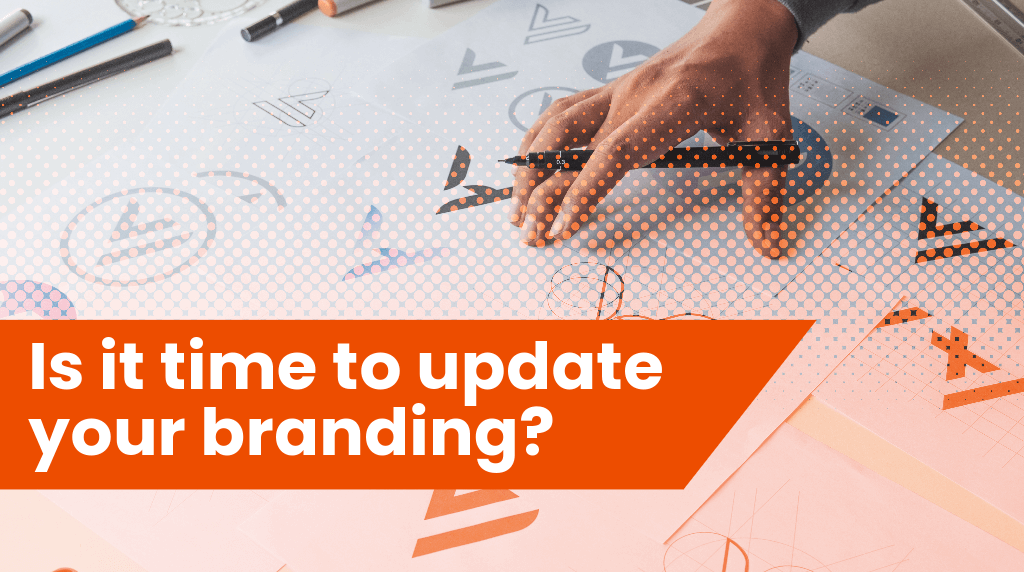 According to Forbes, "It only takes 7 seconds to make a solid first impression." [1]
Is it time to update your branding? Branding is the face of your business. Branding is the first thing your customers see and the imagery they associate with when they remember your business. Good branding effectively communicates who your company is, and what type of services your business offers, and also expresses what your company's core values, purpose and vision are. From your logo and visuals to your messaging and tone, every aspect of your branding reveals exactly who your company is. Your brand is your representation across all mediums and platforms. Having good branding is paramount in any industry where a business wants to stay competitive. When was the last time you updated your branding?

Changing up your branding is not an easy decision to make. It is important to understand what branding is and the benefits of successful branding before you can gauge if your branding is still effective or if it is time to undergo a brand refresh or a complete rebrand. 
Good branding keeps your company competitive.
In today's world, staying ahead of the competition is imperative to the success of your business.
Good branding design keeps your company competitive by differentiating your company from the competition. If your company's branding identity is too close to the competition's then your audience could confuse you with your competitors, which will end up costing you valuable market share.

Branding keeps your company unique and relevant in your field. Your branding identity attracts your target audience by speaking to their specific wants and needs as a consumer. Successful branding keeps your company competitive by making you stand out from the competition. A well-designed brand attracts new customers to your company, leading to more sales.
Good Branding design is important for creating positive customer perceptions.  
Branding is the first thing that your audience sees and plays a significant role in how customers perceive your company. Branding is responsible for telling the story behind your company. This story is your brand message. Your brand message communicates what makes your company unique and what sets you apart from the competition. Brand messaging has to be clear, consistent, and cohesive across all mediums and platforms in order for customers to understand your unique value proposition. 
Branding specialists use a mixture of art and psychology to design branding that ensures that a company's value proposition is successfully represented visually. Logos, colour palettes, illustrations, imagery, and typography are all pieces of a larger machine. Each branding aspect works together to create what makes your brand identity unique, visually appealing, immediately recognizable, and effective in a sea of competition. 
When is it time for change?
Choosing your brand identity is one of the first steps in the creation of your company. Choosing your company's first brand identity is very exciting. You may become attached to your company's original branding. You might even feel like the branding you chose is the one you will use indefinitely. Unfortunately, change is unavoidable as the world of business and branding is changing and evolving constantly. It is easy for your company's branding to begin to feel stagnant to your audience if you have not refreshed the branding for quite some time.
In order to have an effective brand presence and stay competitive in your market you need to understand when it is time to update your branding. This is not an easy decision to make. It is crucial to know why branding is important and the benefits of effective branding before you can accurately gauge if your company's branding is still effective or if it is time for a change.
Branding does not have a set expiration date. Rebranding too often or too late is a delicate balance. It is important to understand exactly why your brand needs an update before making such an important decision. 
"Silber Consulting recommends that companies update their branding every 5-10 years, or when significant changes in your business or industry occur. " 
There are signs that your business needs a rebrand.
Have you had changes to your business strategy? Has there been a change in your target demographic, what your business offers or even what its values are? The world of business and branding is ever-changing and new trends are emerging. It is important for your brand to stay ahead of the curve to stay relevant. There are signs that your branding strategy has changed. If so, then your company's branding needs to reflect those changes.

There are some questions you can ask yourself to better understand if it is time to revitalize or completely rethink your branding:
Has your business entered a new market and is seeking to establish a competitive edge? 

Has your business started offering new services or is targeting a new audience?

Have your preferred methods of communication changed for you or your customers?

Are you trying to grow your business and attract new customers and increase sales?

Has new competition captured some of your customers or market share?
If you answered yes to any of the above questions then it is time to consider revitalizing your branding.

A rebrand or brand refresh could be your secret weapon.
Keeping your company profitable can be challenging, especially in such a competitive world. A rebrand or brand refresh could be the secret weapon that your company needs. A brand update can help maintain your competitive edge and grow your client base and revenue. In fact, Marq's 2021 Brand Consistency Report states that "A good brand across all platforms significantly increases an organization's revenue by up to 23 percent."
A rebrand or brand refresh attracts new customers. It can resonate with a new target demographic's wants, needs and values by catering to different expectations and preferences. A successful rebrand or brand refresh will attract new customers and grow your business, resulting in more customers, more revenue and a greater market share.
A change in branding can improve or modernize the tone or personality of your company and will build a connection with your audience. As communication styles and preferences change, the tone and personality of a brand must adapt to this change. As new competitors enter the market, ensuring you have good branding can differentiate your business from the ever-growing sea of competitors and will solidify your position as an industry leader. 
With the rise of new technologies, new marketing channels like social media and web marketing have emerged as the most effective way to market your company. To successfully communicate your brand messaging in these new channels means that you are reaching a new audience. It also proves to your current audience and customers that your business is adapting to change and committed to innovation. Your company needs branding that is flexible enough to adapt to an ever-changing world of industry trends and strong enough to build upon so you are not needing to rebrand too often.
Brand refresh vs. a rebrand. What is the difference? 
A brand refresh revitalizes and breathes new life into an existing brand, while a rebrand changes the branding entirely. Both a rebrand and a brand refresh are meant to reflect and react to changes and keep your business relevant while maintaining your competitive edge. A brand refresh is much less drastic than a complete rebrand but still achieves the same goals as a rebrand. A successful rebrand or brand refresh will withstand the test of time and keep your company from needing to rebrand too often.
Rebranding too often can negatively affect a company's reputation, especially if the rebrand is poorly executed. This is called rebrand fatigue and happens when a company is unsure of what makes its brand unique and follows design trends instead of staying consistent. Blindly following design trends leads your company to need a redesign more often as trends change. Frequent rebrands end up costing more for your company. They can also make your customers lose their loyalty to your company by confusing and alienating them. Rebrand fatigue makes it difficult for customers to recognize and remember your brand.

How can we help? 
At Digital Aesthetics we can not only help you with your marketing and SEO strategy, but we also have a team of experienced designers that can help you achieve your branding goals.
Unsure of how your current branding measures up against the competition? Digital Aesthetics has a trained team of designers and marketing researchers that can help. We can help you to understand how your current branding stacks up against the competition. Our aim is to help you realize your company's branding goals and ensure that your company's branding refresh or rebrand is a success.
Do you need a branding refresh or a rebrand? We have a team of dedicated designers ready to help your company succeed.