Healthcare Marketing Podcasts To Attend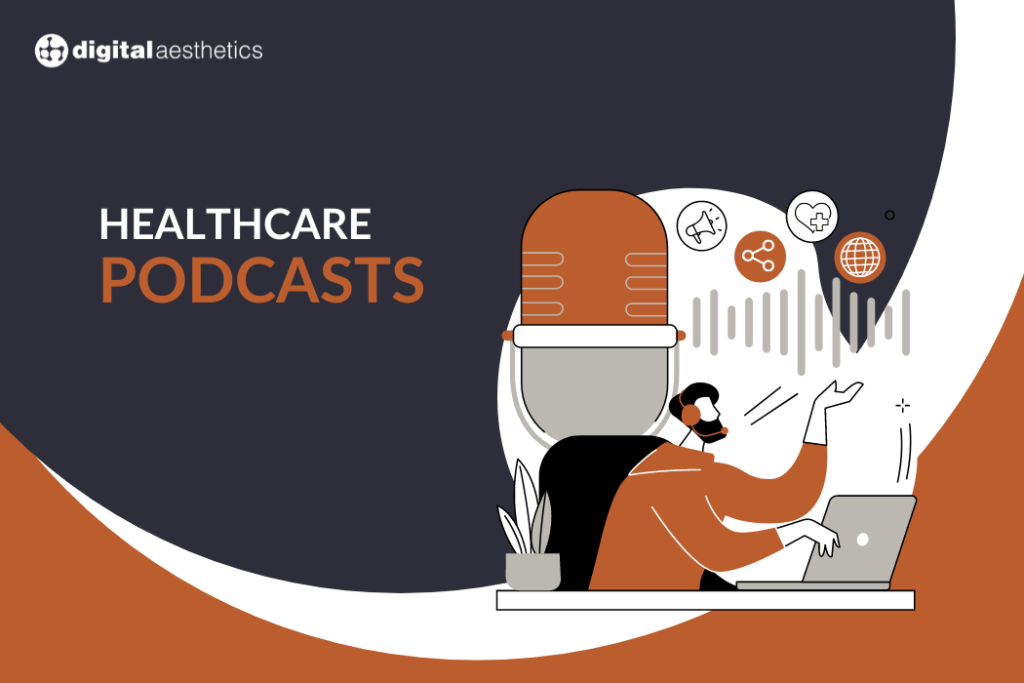 You may remember when, mid-lockdown, a new social media network that was entirely voice-based came into play.
Clubhouse turned what was a lonely time into a place where you could converse directly with some of the best influencers, mentors, and idols you could ever have hoped to meet virtually. 
Being a voice-based platform meant that Clubhouse inadvertently refreshed our love of podcasts! Soon, people were searching high and low for podcasts about their favourite topic to geek out over, for relationship or family advice, or for ideas to keep their business growing. 
While Clubhouse may have seen a sudden decline in excitement and users, podcasts and voice-based media are still alive and kicking. The best part is that no matter how specific your passion is, there is always a podcast for you:  whether you're into SciFi, architecture, or even botany!
Our focus is always on the healthcare and aesthetics industry. So, we've researched for you and looked into the different podcasts you may like. We know that your business is your baby – so we're going to help you today by letting you in on the top five healthcare marketing podcasts you need to follow to boost your business! 
1 Healthcare Happy Hour 
An excellent start to a weekend is the Healthcare Happy Hour. Every Friday, the National Association of Health Underwriters (NAHU) publishes a new podcast, which provides a weekly roundup of healthcare industry issues, from insurance to politics and policy. 
It's a great way to get ahead of the current topics and have a quick week's recap in healthcare news. 
2 Healthcare Success
Healthcare Success is a great podcast that tackles the real issues in healthcare, from COVID being the new 'normal' through to creating brands and jumping on trends. 
They'll give you the lowdown on marketing and relevant topics in the healthcare industry. 7
3 Kelley Knot
Kelley Knot talks to you about all things business – specifically healthcare businesses. 
You'll learn about quick and easy ways to get your admin done, non-verbal communication tips to use with your patients, the future of patient engagement, and so much more! 
4 The Pharmacy Podcast Network
Yes, the title speaks for itself. The Pharmacy Podcast Network deals with issues and topics related to the pharmaceutical industry. 
You'll find out about up-to-date conference information, reviews on a new medication, and legal and policy changes. It's worth a listen! 
5 DriftInsider
DriftInsider has several brilliant podcast channels if you're looking for new ways to push your business further, increase revenue, or even talk to your clients.
A quick subscription to these channels will have your business being the industry leader that you always hoped it would be. 
6 Inside Aesthetics
Since its inception in 2019, Inside Aesthetics has become the most downloadable aesthetic podcast in the world – it now has over 800,000 listens and has been downloaded in 100 countries!
Each episode explores aesthetics and injectable-related topics, covering everything from fillers, bio-stimulators, and toxins to body devices, lasers, and the techniques behind each.
Hosts aesthetics doctor and international injectables trainer Dr Jake Sloane and aesthetics business entrepreneur David Segal compellingly discuss these topics and have a fantastic chemistry between them. You'll want to keep listening again and again.
7 Aesthetics Mastery/Skin Viva
Dr Tim Pearce and his training team at SkinViva have covered you with all the latest in non-surgical injection treatment with their informative podcast, available on Spotify.
The focus is primarily on helping practitioners become safe and skilled injectors and raise the bar in medical aesthetics.
So, what now?
It's your choice which podcast you choose to sign up for or if you subscribe to them all, but we suggest you subscribe today. You're sure to get some excellent educational material out of it.
The real enjoyment of podcasts comes from the fact that they're not similar to a boring YouTube tutorial or the slow slog of a training video – they're vibrant, chatty, and keep you engaged. 
Set time aside each week to delve into the world of healthcare marketing podcasts and find yourself at the top of your game in no time! 
That being said, if you'd prefer not to spend your time listening to podcasts, spending an excessive amount of time on your marketing, or trying to figure out how some people do it, then investing in an agency is always worthwhile to do the work for you. 
Hiring a marketing agency means getting the experts in your corner, doing all the hard work for you – what else could you want? Although, we'd suggest that you choose someone thoroughly experienced in your industry. 
In our case, our history lies in the healthcare industry, so you can't go wrong with using our experience, our knowledge in marketing for the healthcare industry, and the various tools we have invested in.
Chat to us today about how we can help you!