CCR 2023 Expo: The Frontier of Beauty Innovations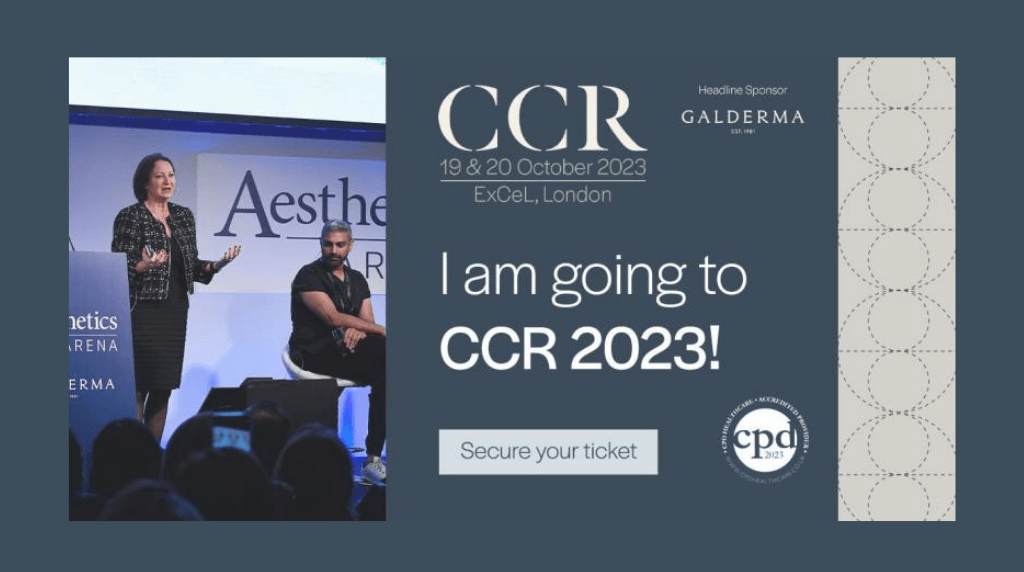 This autumn, from 19-20 October, ExCeL, London will host the hotly anticipated CCR 2023, an event poised to redefine the narrative of medical aesthetics through a blend of innovation and marketing prowess. Sponsored by Galderma, this event is not merely a convention but a hub of cutting-edge practices, networking opportunities, and a rich educational agenda that seeks to advance the aesthetics industry in terms of technical mastery and market strategies.
An Overview of CCR 2023
CCR 2023 stands as the sole UK event that brings together the medical aesthetics community, aiming to foster innovation and raise industry standards. The event is organised by Aesthetics, the brand powering ACE, The Aesthetics Awards, and the acclaimed Aesthetics journal, thus ensuring a platform for learning, development, and camaraderie among industry professionals.
Over the course of two days, attendees will be immersed in CPD-certified content across six conference theatres, engage with more than 140 premier brands, and partake in over 20 hours of networking with industry forerunners, making it an unmissable occasion for anyone involved in medical aesthetics.
Embarking on an Educational Expedition: What Awaits at CCR 2023?
With a significant emphasis on education, CCR has evolved into the UK's leading educational event in medical aesthetics, providing free CPD-certified conferences encompassing surgical and non-surgical procedures. Attendees can look forward to:
Networking and Discovery: The opportunity to connect with over 3,300 attendees, discover 140+ brands, and earn up to 16+ CPD points through a business-centric agenda.
Galderma's CCR Medical Aesthetics: Explore advancements in dermatology catering to every skin story under the headline sponsorship of Galderma.
World-Class Professional Development: Across six conference theatres, engage in 16 hours of professional development with over 120 global speakers, diving into the latest trends and practices in the aesthetics domain.
Special Features and Highlights
CCR 2023 of the chance to explore a world of learning and innovation. From expert-led masterclasses to the exciting Medical Longevity Summit, this event is packed with opportunities to learn, connect, and discover the latest in aesthetics.
Masterclasses: Exclusive masterclasses by Dr. Tapan Patel, Dr. Cetto & Prof. Bernardini provide a deeper understanding of aesthetic practices.
The Aesthetics Arena and The Innovation Stage: A platform to empower clinics with evidence-based research and explore the latest products, protocols, and techniques from industry trailblazers.
Medical Longevity Summit: Curated by Dr. Gooneratne, opening a dialogue on extending the healthy human lifespan intertwined with aesthetic medicine.
Korea Pavilion: A novel feature for 2023, facilitating Korean companies in reaching new horizons in association with the IBITA.
The Symposium Stage and In Practice Theatre: Live treatment demonstrations by top pharmaceutical brands and sessions to elevate clinics' operational acumen covering essential business topics.
CCR Charity Diwali After Party: Marking a grand conclusion to the enriching two-day event, unite with the aesthetic community in a celebration hosted in support of charity.
Marketing Mastery: A Glimpse into CCR 2023's Marketing Ingenuity
CCR 2023 is also a spectacle where marketing meets medical aesthetics. The event provides a platform for unveiling and exploring marketing strategies beyond conventional boundaries, reflecting the pulse of the latest beauty trends and consumer preferences. Some marketing-centric highlights include:
Skincare, Makeup, and Haircare Trends: Embrace the narratives of clean, sustainable, and inclusive beauty, engaging with brands championing natural ingredients, eco-friendly packaging, expanded shade ranges, and plant-based formulations.
Featured Aesthetic Brands: A marketing showcase where leading beauty brands like Galderma, Hydrafacial, SkinCeuticals, Cutera, DermaFocus, Hya Corp, and Crown Aesthetics unveil their unique offerings, each echoing a blend of science, aesthetics, and marketing excellence.
Engaging Beyond: The CCR 2023 Agenda
CCR 2023 is full of rewarding opportunities for enthusiasts and clinic owners to enrich their expertise. From delving into aesthetics marketing insights shared by many experienced attendees to honing one's own skills and expanding knowledge, the event offers a comprehensive suite of experiences:
Networking: CCR provides a fantastic opportunity to dive into discussions with over 3,300 attendees that will shape the marketing narrative of tomorrow.
Brand Exhibition: Attendees can explore 140+ brands, each with its unique marketing narrative, unveiling products and solutions that are reshaping the aesthetics landscape.
Professional Development: Delve into marketing strategies and trends with over 120 global speakers across six conference theatres.
An Exhibition of Forefront Aesthetic Solutions
Explore a broad spectrum of leading-edge aesthetic products at the exhibition held during CCR 2023. This showcase is meticulously curated to present advancements in the field, creating an avenue for professionals to acquaint themselves with the latest in injectables, topical applications, cosmetic surgery solutions, and much more.
Additionally, the exhibit provides a platform for training, support, and professional development, catering to the ever-evolving needs of medical aesthetics professionals. Below is a more detailed glimpse into the variety of products and services awaiting discovery at the exhibition:
Injectables: A showcase of the latest formulations and technologies in injectable solutions used for various aesthetic and therapeutic applications such as wrinkle reduction, facial contouring and volumisation.
Topical Skin Applications: Discover a range of topical applications, including serums, creams, and other skincare products designed to address skin concerns like ageing, acne, pigmentation, and overall skin health.
Energy-based Rejuvenation Treatments: Get acquainted with the newest energy-based technologies, including laser, radiofrequency, and ultrasound devices aimed at skin tightening, wrinkle reduction, and other rejuvenating treatments.
Body Treatments: Explore an array of treatments targeting body contouring, fat reduction, cellulite improvement, and other body enhancement technologies.
Hair Regeneration & Reduction: Uncover the latest hair restoration and reduction technologies, ranging from laser hair removal devices to growth stimulatory treatments.
Thread Lifting: Delve into the modern techniques and materials used in thread lifting procedures, which offer a minimally invasive alternative to surgical facelifts.
Longevity, Wellness & Regeneration: Discover products and treatments aimed at promoting overall wellness, longevity, and regenerative medicine, focusing on holistic approaches to aesthetic medicine.
Cosmetic Surgery Solutions: Explore a variety of surgical solutions, including implants, surgical instruments, and other products related to cosmetic surgical procedures.
Cosmetic Dentistry: Discover advancements in cosmetic dentistry encompassing teeth whitening, veneers, and other aesthetic dental solutions.
Clinic Services & Solutions: Explore an array of services and solutions designed to optimise clinic operations, including software solutions, marketing services, and patient management systems.
Training, Support & Professional Development: Engage with organisations offering training programs, continuous professional development courses, and support services aimed at enhancing the skills and knowledge of professionals in the aesthetics industry.
The exhibition at CCR 2023 presents an invaluable opportunity for professionals to immerse themselves in the innovations defining the contemporary aesthetics domain, fostering a conducive environment for learning, networking, and business growth.
Distinguished Speakers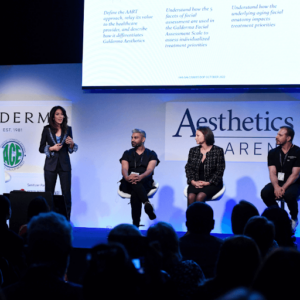 CCR 2023 is privileged to feature a lineup of distinguished speakers, each with a wealth of knowledge and expertise in the field of medical aesthetics. Here's a closer look at some of the eminent personalities slated to share their insights at the event:
Dr Tapan Patel: With 16+ years of clinical experience, Dr Patel, the founder and medical director of PHI Clinic, is passionate about aesthetic medicine standards. Recently listed in Tatler's Top 30 Anti-Ageing Experts, his expertise significantly enriches CCR 2023.
Dr Lara Watson: Dr Watson, an Oxford registrar in maxillofacial surgery, holds dual doctor and dentist qualifications. Associated with the Royal College of Surgeons of England, she's renowned for high-standard theoretical teaching in facial aesthetics. She serves as the clinical director of SW1 Aesthetics in Westminster, a key opinion leader for Galderma, and a co-founder of Acquisition Aesthetics.
Miss Priya Chadha: Miss Chadha, a plastic surgery doctor and mother of three, co-founded Aesthetics United. An advanced trainer in aesthetic injections, she's leading a UK-wide clinical trial on neuromodulator applications and is a global key opinion leader for Galderma, making significant national and international contributions.
Dr Mayoni Gooneratne: Dr Gooneratne, a London-based general surgeon with 18+ years of experience, has been a member of the Royal College of Surgeons since 2002. Recognized at the Aesthetics Awards in 2017 and shortlisted for Best London Clinic in 2018, her achievements reflect her substantial contributions to the field.
Other confirmed notable speakers to look forward to include:
Dr Munir Somji
Mr Jeff Downie
Mr Dalvi Humzah
Sharon Bennett
Dr Ayad Harb
Alice Henshaw
Claire Reach
Dr Raul Cetto
Dr Souphi Samizadeh
Dr Yusra Al-Mukhtar
Brenda Cumming
Francine Kagarakis
Metaxia Dalikas
Dr Steven Cohen
Each of these speakers is sure to bring a unique perspective and wealth of knowledge to CCR 2023, ensuring a comprehensive and enriching experience for everyone in attendance.
Prepare for the Biggest Beauty Event of the Year!
CCR 2023 is more than an event; it's a journey into the future of medical aesthetics, redefining the domain through a convergence of technical innovation and marketing narratives. To secure your tickets and embark on this expedition of discovery, learning, and unparalleled networking opportunities, visit CCR registration. For Aesthetics Full Members, you can enjoy priority access and exclusive discounts. Your adventure in medical aesthetics awaits at CCR 2023.