FACE 2023 Conference Sets the Tone for Aesthetics in London
The FACE 2023 conference is the UK's premier medical aesthetics gathering. This year was no exception. The conference showcased some of the latest trends in the field, with a focus on innovative clinical applications and practical solutions for aesthetic practitioners. Renowned experts shared their insights, and several engaging workshops and discussions took place, shedding light on the rapidly evolving landscape of medical aesthetics.
The event was held at the prestigious InterContinental London at The O2, on Waterview Drive in the Greenwich Peninsula. The Docklands was the backdrop of the event which was held on a large floor that hosted exhibitors as well as the demonstration sessions and speeches. It was certainly a luxurious event.
Trends
One of the prominent trends highlighted was the increasing demand for non-surgical aesthetic treatments, including injectables like Botox and dermal fillers, and non-invasive body contouring procedures. Personalized treatment plans, harnessing the power of AI and machine learning for improved patient outcomes, were also discussed as an emerging trend.
Exosomes
There were plentiful companies offering the latest in regenerative medicine. Exosomes were at the heart of it. But what are they? Exosomes have emerged as a breakthrough concept in the beauty industry, promising exciting possibilities for skin rejuvenation and anti-ageing. These tiny vesicles, which cells naturally use to communicate with each other, are being harnessed for their potential to deliver powerful regenerative materials like proteins and RNA to skin cells.
They're believed to stimulate collagen production, promote cell regeneration, and even combat inflammation, making them a promising component in skincare products. Some professionals are also using exosome therapy in aesthetic medicine, claiming it can help address various skin concerns from wrinkles to discolouration. While further research is needed to fully understand their benefits and safety, exosomes could potentially revolutionize the way we approach skincare and anti-ageing.
Facial Skin Analysis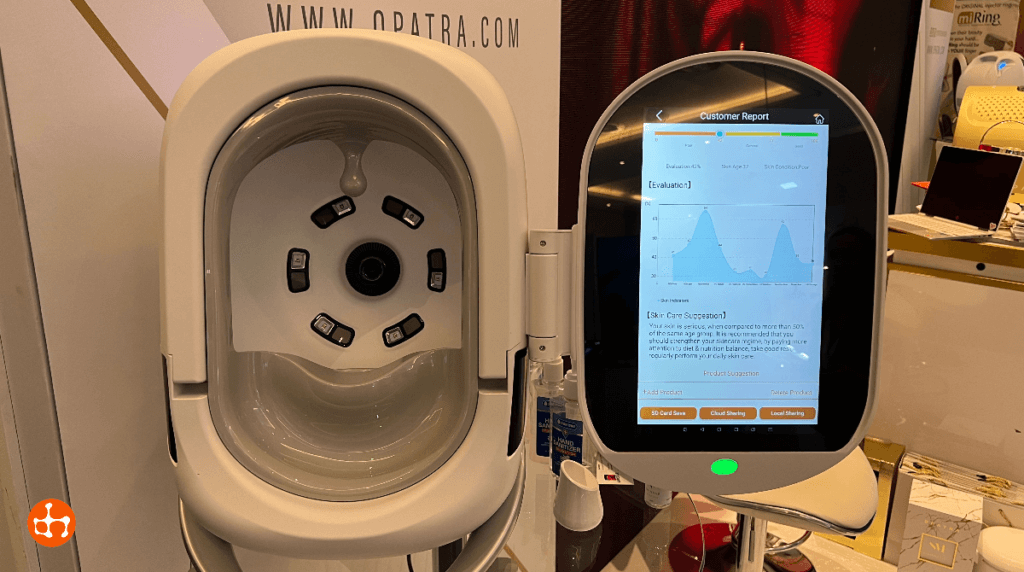 This year's conference was flooded with companies offering skin analysis equipment. But this is not a new trend. Facial skin analysis has become an invaluable tool in the beauty industry, offering a deeper understanding of our skin's needs. These high-tech devices use various forms of imaging technology to assess the state of your skin both on the surface and beneath. They can detect a variety of skin conditions including dryness, clogged pores, sun damage, wrinkles, and uneven skin tone.
The data collected from these analyses allow beauty professionals to create a personalized skincare regimen that targets your specific skin concerns. Moreover, it helps you track the progress of your skincare routine over time, letting you know if the products you're using are truly effective. Facial skin analysis is revolutionizing the way we approach skincare, making it more personalized and data-driven than ever before.
Speakers
Prominent speakers included leading dermatologists, plastic surgeons, and industry innovators, who shared their expertise on a range of topics—from the latest in laser technology to advancements in skin rejuvenation and anti-aging treatments. Some of the most interesting ones included:
Jean Pierre Amsellem
Jaishree Sharad
Martina Kerscher
Jesper Thulesen
Wendy Lewis
Tahera Bhojani-Lynch
Raul Cetto
Sonja Sattler
Rashmi Shetty
Emma Ravichandran
Kam Lally
Lee Walker
Dario Bertossi
Kim Booysen
Kate Goldie
Eleni Makropoulou
Vincent Wong
Michael Gold
Vladlena Averina
Workshops focused on enhancing practical skills, such as mastering injection techniques and understanding the nuances of various aesthetic procedures. They also delved into business aspects, including marketing strategies for aesthetic clinics and maintaining a loyal client base.
Interactive discussions touched on ethical considerations in aesthetic medicine, the importance of continued professional development, and how to navigate the challenges posed by the COVID-19 pandemic.
Main Sponsors
Wigmore Medical
Wigmore Medical is a leading name in the field of medical aesthetics, known for its comprehensive range of products and services. With over 30 years of experience at the forefront of the industry, the company specializes in distributing exclusive skincare brands, dermal fillers, toxins, and other consumables. They also provide high-quality training programs to professionals in the sector. Wigmore Medical prides itself on being more than just a distributor – they're a partner that supports clinics and practitioners with the resources they need to deliver exceptional aesthetic treatments. Their commitment to staying up-to-date with the latest advancements in the field makes them a go-to choice for many professionals in the UK and Ireland.
Vivacy Paris
Vivacy is a distinguished name in the field of aesthetic and anti-ageing medicine, based out of Paris, France. With over 15 years of experience, they specialize in the development of innovative products centred around hyaluronic acid. Their product range includes aesthetic medicine, perfume, intimate medicine, and dermo-cosmetic skincare. They're particularly renowned for creating STYLAGE®, a comprehensive range of resorbable fillers formulated with stabilised hyaluronic acid using patented IPN-Like technology and mannitol, an antioxidant. Laboratories Vivacy's commitment to quality and innovation has made them a trusted choice for aesthetic professionals in more than 75 countries worldwide.
Hydrafacial
Hydrafacial was one of the major sponsors of the event. They were there to showcase the HydraFacial device, a revolutionary piece of technology that's changing the face (pun intended) of skincare. This high-tech gadget performs a unique triple-action treatment that deep cleans, extracts, and hydrates the skin—all in one go. The device uses vortex-fusion technology and a series of HydroPeel tips to exfoliate, perform painless extractions, and deliver a cocktail of nourishing serums to the skin. What sets the HydraFacial device apart is its ability to offer a thorough, professional-grade skin treatment that is gentle enough for all skin types and concerns. It's truly a game-changer in achieving radiant, healthier-looking skin right at home or in the dermatologist's office.
DermapenWorld
DermapenWorld was another major sponsor of this event. DermapenWorld is a pioneer in the world of skin rejuvenation, known for its innovative micro-needling pens and skin treatment devices. As the creators of the original and trusted Dermapen, they revolutionized the industry by introducing the first automated microneedling treatment over a decade ago. Their products aim to improve the appearance of the skin, reducing wrinkles, diminishing scarring, and rejuvenating ageing or loose skin. With a reputation for quality and efficacy, DermapenWorld has become a trusted name in the skincare industry, not just in Australia where it originated, but around the globe. They also offer Dp Dermaceuticals, a skincare line specifically designed to complement their microneedling treatments.
At the @faceconference 2023! 😍 pic.twitter.com/996ObhaGWW

— Digital Aesthetics (@Digital_Aesthet) July 1, 2023
Other Exhibitors
InMode
InMode is a prominent player in the medical aesthetics industry, known for its innovative and minimally invasive aesthetic solutions. The company designs, develops, and markets state-of-the-art devices that employ advanced radiofrequency technology. These products cater to a variety of aesthetic needs, from skin rejuvenation to body contouring and more. InMode's commitment to creating effective, energy-based treatments has cemented its position as a trusted provider within the field. Despite facing uncertainties in the market, the company continues to demonstrate resilience with its stock performance. It also regularly participates in investor conferences and events, showcasing its continued dedication to growth and industry leadership.
SesDerma
Sesderma is a renowned Spanish medical aesthetics company, founded in 1989 by Dr. Gabriel Serrano, an acclaimed dermatologist. Known for its innovative product line and advanced dermatology solutions, Sesderma is constantly making strides in the field of aesthetic medicine. The company recently unveiled its latest range of products under the Sesderma and Mediderma brands, further solidifying its position as a leader in international dermatology. Among their offerings, the C-Vit range has garnered particular attention for its clinical skincare benefits. Furthermore, the company has made significant expansion moves, like launching the Dr. Serrano Clinics. With a revenue of £32.4 million, Sesderma continues to make waves in the global medical aesthetics market.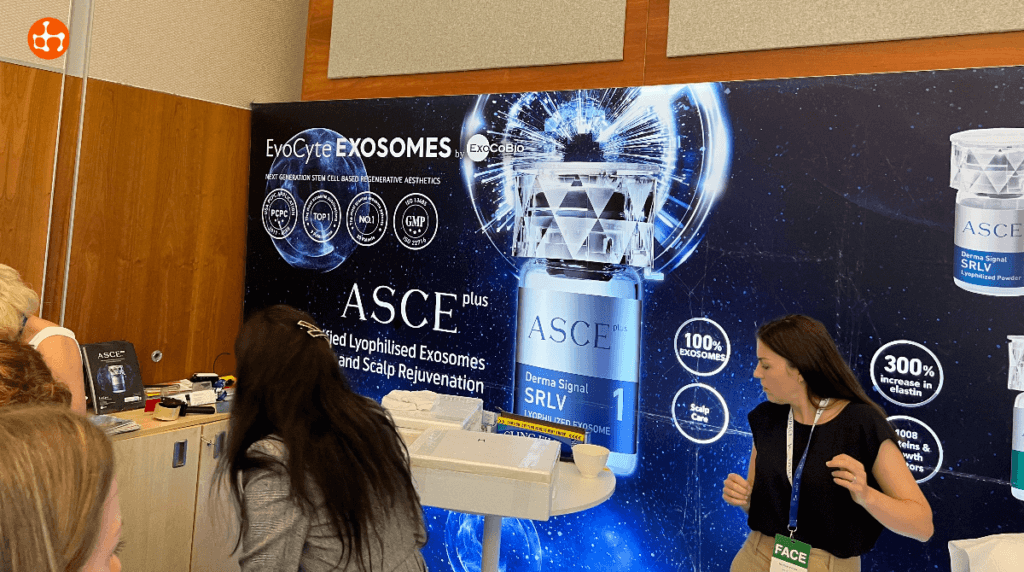 The Digital Aesthetics team was there this year as well, to observe the latest in aesthetic treatments and discuss marketing solutions with vendors. The FACE 2023 conference was an overall success for participants and attendees. The event served as a comprehensive platform for professionals to stay updated with the latest trends, exchange ideas, and further their knowledge in the field of medical aesthetics. We are looking forward to next year's event.